The road to the back
While repelling the approaching dead army, you continue the march. For the first time, the enemy that does not feel fear nor anger. Battlefield is wrapped in unprecedented air .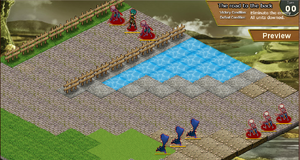 | Encounters | Drops |
| --- | --- |
| Shade x3 | 2900 Gold |
| Skeleton x3 | elf raxa |
| Red Skeleton x2 | |
| Wandering Fred (Undead Sword) | |
Battle Remarks
Edit
Ad blocker interference detected!
Wikia is a free-to-use site that makes money from advertising. We have a modified experience for viewers using ad blockers

Wikia is not accessible if you've made further modifications. Remove the custom ad blocker rule(s) and the page will load as expected.