The East of Goutland
The goddess Idunn has been captured by giants, striking a heavy blow against Asgard. The king of all gods, Odin, has urgently ordered you to rescue her. Return to Midgard and lead the way to Jotunheim, realm of the giants.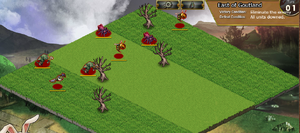 | Encounters x7 | Drops |
| --- | --- |
| Giant Wasp  | 500 Gold |
| Tamer Goblin  | beryl |
| Giant Bat  | |
| Giant Spider  | |
Battle Remarks
Edit
Ad blocker interference detected!
Wikia is a free-to-use site that makes money from advertising. We have a modified experience for viewers using ad blockers

Wikia is not accessible if you've made further modifications. Remove the custom ad blocker rule(s) and the page will load as expected.