Suspicious Altar
You have finally reached the altar where the ritual is being performed. However, you may be already too late.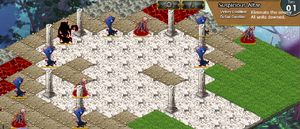 | Encounters | Drops |
| --- | --- |
| Sacred Shade | 2600 Gold |
| Skeleton x4 | golden shield |
| Shade x6 | mana surcoat |
Battle Remarks
Edit
Ad blocker interference detected!
Wikia is a free-to-use site that makes money from advertising. We have a modified experience for viewers using ad blockers

Wikia is not accessible if you've made further modifications. Remove the custom ad blocker rule(s) and the page will load as expected.