Grin and Sigmund
You have trespassed on the territory of Vezl clan. After the previous battle, you notice some human-shaped figures arguing with each other.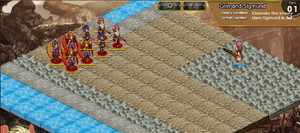 | Encounters | Drops |
| --- | --- |
| Spear Fighter x3 | 1400 Gold |
| Axe Fighter x2 | monster leather |
| Sword Fighter x2 | |
| Big Wing Grin (Spear Master) | |
                                         Note* Hero Sigmund will be an ally in this battle
Ally Stats

Battle Remarks
Edit
Ad blocker interference detected!
Wikia is a free-to-use site that makes money from advertising. We have a modified experience for viewers using ad blockers

Wikia is not accessible if you've made further modifications. Remove the custom ad blocker rule(s) and the page will load as expected.