Endless Mirkwood
[Random battlefield]
This is part of the endless forest that covers Alfheim. Everything from trees, flowers, grass, insects, beasts, to humans live in this mysterious forest.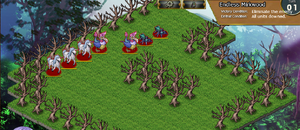 | Encounters | Drops |
| --- | --- |
| Note* One of these groups will appear: | 1500 Gold |
| Group One: Centaurus x3, Red Goblin x2,Imp x2 | silver ore, silkworm, |
| Group Two:Unicorn x3, Cockatrice x2,Dread Spiderx2 | oak wood, monster leather |
Battle Remarks
Edit
Ad blocker interference detected!
Wikia is a free-to-use site that makes money from advertising. We have a modified experience for viewers using ad blockers

Wikia is not accessible if you've made further modifications. Remove the custom ad blocker rule(s) and the page will load as expected.