Bifrost - Defensive war
Marching on the Rainbow Bridge, you found a flock of numerous undead. You threw yourself in a reckless battle to defend the bridge. Thus the defense on the bridge began.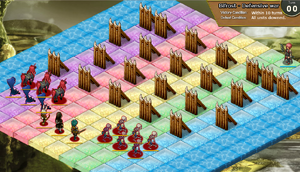 | Encounters | Drops |
| --- | --- |
| Skeleton x3 | 3000 Gold |
| Red Skeleton x3 | vanadium ore |
| Shade x3 | |
| Nightmare x3 | |
| Return Yuti (Undead Archer) | |
| Unchanged Tiari (Undead Sister) | |
| Wandering Fred (Undead Sword) | |

                      Note* Guardian Heimdallr will be an ally in this battle   
Ally Stats

Battle Remarks
Edit
Surprisingly powerful not 1, not 2,  but 3 Bosses along with a horde of minions. Obstacle stages make for an 'easy win' situation. Just survive 10 rounds... keep your 3 strongest units blocking the paths and bring 2 healers.
Ad blocker interference detected!
Wikia is a free-to-use site that makes money from advertising. We have a modified experience for viewers using ad blockers

Wikia is not accessible if you've made further modifications. Remove the custom ad blocker rule(s) and the page will load as expected.