Bandit Leader
You have followed the bandits back to their lair. Tension feels the air. A showdown is imminent.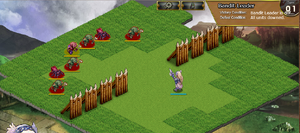 | Encounters | Drops |
| --- | --- |
| Goblin Minion x4 | 500 Gold |
| Giant Spider x2 | tin ore |
| Go Baldo the Idiot (Red Goblin) | |
Note*Brynhildr will be an ally in this battle
Ally Stats

Battle Remarks
Edit
If  your crew is taking too much damage bring them to any of the Prologue battles along with a healer (or two) and let Brynhildr take care of the enemies while you gain free health.
Ad blocker interference detected!
Wikia is a free-to-use site that makes money from advertising. We have a modified experience for viewers using ad blockers

Wikia is not accessible if you've made further modifications. Remove the custom ad blocker rule(s) and the page will load as expected.